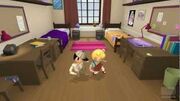 Bedroom Tour is the first episode of Season 1 and the first episode of Teletubbies Xtranormal.
Bedroom Tour

Season

1

Episode

1

Magical Event

Lion and Bear (original)

Air Date

June 23, 2012

Preceded by

None (first episode)

Followed by
Plot
The Teletubbies have a fun time dancing and going for walks. Then, they watch a boy and girl show them around their room. Then, they have Tubby Custard. Finally, they watch the Bear and Lion before it's time for Tubby Bye-Bye.
Cast
Gerhardt - Tinky-Winky
Carter - Dipsy
Felicity - Laa-Laa
Ruby - Po, Molly (TV Event)
Wendell - Narrator
Lisa - Voice Trumpet (Female)
Halfpound - Matthew (TV Event)
Sarah Palin - Bear With Brown Fuzzy Hair (Magical Event)
Tetsuo - Scary Lion (Magical Event)
Trivia
This is the first apperance of the Teletubbies, Bear and Lion, Narrator, and Voice Trumpet (Female.)

This is the first episode of the series.
Gallery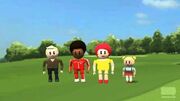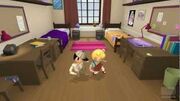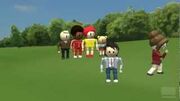 Watch